What role do non-state actors play in education?
NFER was commissioned by the Global Education Monitoring (GEM) Report to write a background paper for the 2021/2 Report.
By Dr Katarzyna Kubacka, NFER Research Director
The GEM Report is editorially independent, and is hosted and published by the United Nations Educational, Scientific and Cultural Organisation (UNESCO). It has a mandate to monitor and report on education progress in achieving the Sustainable Development Goals (SDGs), with particular reference to the SDG 4 monitoring framework.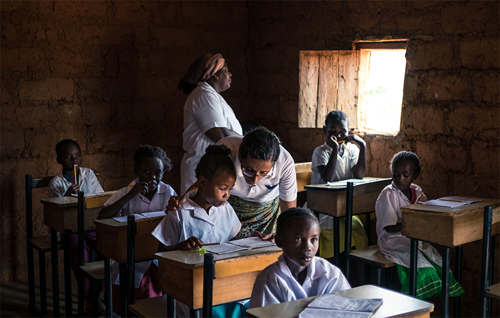 Each edition of the GEM Report focuses on a different theme, relevant to global educational progress and the SDGs. NFER's paper provided background information for the production of the 2021/2 Report devoted to the topic on Non-state actors in education. This term refers to a wide range of stakeholders, also called 'non-governmental', engaged in education for various motivations, such as charity and profit. Examples of such actors include private education providers, public-private partnerships, charities and corporations providing infrastructure support in education.
Our paper investigates the positions, strategies and impact of the work of civil society organisations (CSOs) on the topic of non-state engagement in education. We conducted the research in collaboration with the Global Campaign for Education (GCE) and its national education coalitions. GCE brings together the largest number of education-focused CSOs from around the world.
Our study found that the interviewed CSOs had nuanced views around non-state engagement. Most CSOs were against the privatisation of education. However, many organisations supported the engagement of other actors, such as charitable organisations. This was the case especially in countries and regions where it was perceived that the governmental schools were not able to guarantee the right to free and quality education for all learners.
The research revealed that CSOs' work engaged with the different stakeholders in education: government and legislature bodies, school officials, teachers, parents and community members, as well as the international community. The interviews, which were conducted in the first months of the COVID-19 pandemic, also highlighted that the pandemic might impact the situation of non-state actors as well as CSOs' work. For instance, CSOs mentioned that some private schools, including low-fee private schools, were closing due to the financial impact of lockdowns and where parents were not able to afford payment during the pandemic.
Overall, our study found that the position of the interviewed CSOs around non-state actors in education were predominantly guided by the belief that education is a basic human right. As a result, the organisations' work focused on equity considerations and aimed to ensure that all learners benefit from quality education, no matter their socio-economic situation.