As independent specialists in education research and assessment, we undertake commissions for a wide range of organisations, policy makers and practitioners seeking to improve education and the lives of children and young people in the UK and internationally.
If you are interested in commissioning us, please get in touch with us at [email protected] or 01753 637354.
Download our International Brochure

here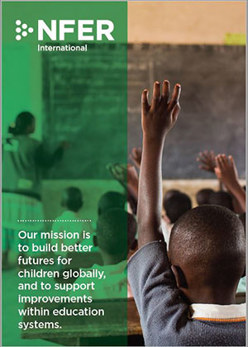 .

Why commission us?
NFER is the UK's leading independent education research organisation over 75 years' experience of generating evidence and insights to inform both policy and practice.
We offer robust, high-quality research, analysis and assessments; vast expertise within the education sector; the capacity to turn projects around quickly; a guarantee of independence; and value for money. We successfully design and deliver around 150 projects annually. Half of the schools in England take part in our research or use our products each year.
We are well known for our research and assessment work and have a reputation as a trusted, professional, and rigorous organisation, producing evidence-informed insights that are relevant, accessible and focused on topical issues. We inform education policy and practice across the world.
Who will be working with you?
Our staff come from research, teaching and policy backgrounds, grounding our research and assessments in an understanding of education practice and policy. We have a team of over 100 highly qualified assessment experts, researchers, economists, psychometricians, statisticians and information specialists, who combine extensive experience of research and assessment methods with deep subject knowledge in education.
Our team of over 50 Research and Product Operations specialists are experts in engaging pupils, teachers, schools and colleges in our studies and in securely managing large, complex surveys and assessment projects. We also have more than 400 fieldworkers across the UK, all of whom are qualified teachers, who work directly with schools and colleges.
Who else has commissioned us?
Our past and current clients include the Education Departments of the governments of England, Scotland, Wales and Northern Ireland, Ofqual, the Education Endowment Foundation (EEF), the Sutton Trust, the Department for International Development, Save the Children, the Australian Curriculum, Assessment and Reporting Authority, and the International Association for the Evaluation of Educational Achievement.
Selected Policies

 Our Carbon Reduction Plan and Environmental Policy Statement