Standardised assessments for Trusts
How can standardised assessments help Trusts and academies?
Multi Academy Trusts (MATs) require valuable data to impact and evidence attainment and progress at both a Trust and academy level.
Standardised assessments provide valuable assessment data that can be used to:
monitor pupil progress and attainment at an academy and Trust level
share Trust improvement plans with Ofsted
reduce teacher workload by identifying learning gaps to inform teaching and learning
ensure consistency across the academies within your Trust.

How to choose the right standardised assessment for your Trust
Standardised assessments are a popular choice among Trusts as they can produce a reliable measure of pupil attainment and progress. But, how do you choose the right assessments for your Trust?
Check for standardisation - A crucial element of robust assessment is standardisation. A standardised test is one that has been trialled with a nationally representative sample of pupils.
Go for reliability - Reliability has a very specific meaning in test development, but for classroom assessment purposes you need to be sure that the tests are administered and marked in a consistent way. This means that the administration guidelines must be clear.
Be clear on your needs - What determines the validity of an assessment is how well it supports your needs and how it will benefit your pupils and teachers.
Demand comprehensive data - Just looking at the number of marks scored in a test (a pupil's raw score) has limitations. This doesn't enable you to compare results across tests or over time whereas standardised scores enable you to do this.

Introducing NFER Tests
NFER Tests for years 1-6 are trusted by hundreds of Trusts and thousands of schools and are backed up by more than 75 years of assessment research.
standardised with over 60,000 pupils to provide reliable and robust results
developed in line with the current national curriculum to align with and complement your teaching
written in-house by a team of assessment experts, in collaboration with teachers
supported by a free online analysis tool for powerful assessment data reporting.
Gain a better understanding of pupil, school, and Trust performance
All users of NFER Tests gain free access to our online analysis tool, offering easy-to-use and powerful data reporting.
Use the NFER Tests Analysis Tool to: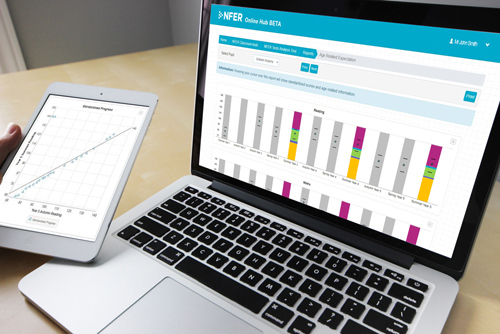 gain a whole-pupil view - track pupil performance during the academic year and across year groups within your academies
view powerful benchmarking data - compare your results to the representative standardisation sample at a pupil, group, or class level
share reports with key stakeholders - benefit from powerful reports to view and compare pupil attainment and progress
instantly convert raw scores into standardised and age-standardised scores.
How can I find out more?
Send our friendly Helpline for Schools an email on [email protected] to arrange a discovery call with one of our in-house assessment experts, many with teaching backgrounds.
View and download free sample materials to view the types of question and format of NFER Tests.
Alternatively, fill in the form below to have a free sample materials brochure sent to your Trust and to keep up to date with all the ways that NFER can support your Trusts with free resources and updates.