International Women's Day 2020: celebrating women in NFER
At NFER, we are marking International Women's Day (8 March 2020) which celebrates the achievements of women around the world.
This year, the theme is #EachforEqual, which calls for us to challenge stereotypes, fight bias, broaden perceptions, improve situations and ultimately celebrate women's achievements.
In this blog, we are celebrating three inspiring women who work at NFER: Jenna, who is a Senior Economist, and Funmi and Khushbu, who both work as IT App Developers.
Did you know only 14% of IT staff in the UK are female? That's compared to 38% at NFER!
We sit down with our colleagues to have a chat about what they do, what attracted them to working in their fields and how women can be inspired to work in these more traditionally male-dominated careers…
Meet Funmi…
Funmi is a Database Administrator and Applications Developer at NFER, which means she manages our database and ensures our clients' information is safe and secure. Starting as an IT Support Officer, Funmi has worked in our IT department for an amazing 22 years.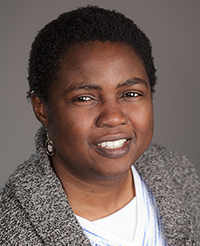 "I love working at NFER! I am privileged to be part of an amazing IT team which is both friendly and supportive; we look out for each other, inspire each other to higher standards and have lots of laughs along the way.
When I was younger, I loved both medicine and engineering, but computing really fascinated me. I loved the mathematical element of it. Previously, I'd worked in a post office, when everything was still paper-based – we've come a long way since then!
When I first mentioned that I wanted to pursue a career in IT, some people tried to put me down as they didn't think I could do it.  But you have to follow your dream, no matter what it takes. Don't let anyone tell you different!
The IT world is still dominated by men, but it's getting much better. There are less barriers, but still more can be done to encourage women. We just need to keep following our dreams, keep improving and be the best we can be."
Meet Jenna…
Jenna Julius is a Senior Economist at NFER. After working in economic consultancy for a variety of industries and markets, she completed a Masters in Economics in Barcelona. She joined NFER because she loves to use data to investigate potential research opportunities and current knowledge gaps in education.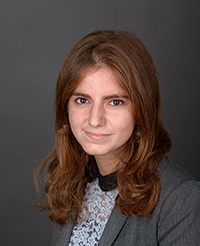 "For me, economics is about trying to understand how the world works and using that understanding to identify how we can improve it. It's not all banking or finance – that's a myth!
As a Senior Economist, I look at the data and try to see what it says. We are lucky that there is lots of exciting education data out there which can help answer policy questions and add a lot of value to the sector.
I'd really recommend a career in economics, you can get into it from lots of different directions and you don't have to be amazing at maths – as long as you enjoy logic and intuition.
It's also not as male-dominated as you might think. At undergraduate level it's fairly balanced, but women seem to shy away from the more mathematical and technical side of economics. That's where we need to encourage women to have the confidence to take more of the options that lend themselves to postgraduate study."

Meet Khushbu…
Khushbu has been an Applications Developer at NFER for over two years. She manages every part of the application development process, from planning and implementation to testing.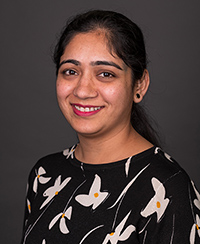 "I love designing and developing applications; each project is different and requires something new. When I complete a NFER project, I feel amazing, because I know the work we do is going to be so useful for both teachers and children.
Outside of work, I'm usually doing something creative. Growing up, I wanted to be a fashion designer, but I was also really interested in the creative side graphic design and computers, so I did a Masters in IT.
The IT world is definitely investing more in female staff. A decade ago, when I started working, only 15% of my team were women. It's amazing to see how many women from developing countries are getting more confident in pursuing a career in IT.
If you're interested, you should definitely go for it. From designing beautiful layouts to creating criminal investigative software, you really can do anything! IT opens so many doors for you."
If you're interested in pursuing a career within NFER, head over to our careers page, where we have a number of fantastic opportunities available. NFER is a not-for-profit organisation and an equal opportunities employer, welcoming applications from all sections of the community.