Lessons from a school leadership improvement pilot in Uganda
This year's World Teachers' Day emphasizes the role of teachers at the 'heart of education recovery.' The question of how to empower teachers to build effective learning environments has never been more important than now, given the devastating effects of the ongoing pandemic. Teachers need environments which help them to reach their potential. While there is increasing evidence on the importance of in-school relationships in effective education delivery, many schools fail to maintain an environment which fosters development and constructive working relationships. Strengthening school leadership and management practice is one of the ways to tackle this challenge. 
In 2019, Promoting Equality in African Schools (PEAS), in partnership with Uganda's Ministry of Education and Sports' Directorate of Education Standards (DES), launched the Inspect and Improve (I&I) programme pilot. The pilot aimed to improve the quality of leadership and management in 10 under-performing government schools, and generate learnings about how PEAS can work effectively with the government to promote school and system-level improvements in education quality.  The programme takes learnings from PEAS' recognized approach to strengthening school management in its 28 schools in rural and low-income areas of Uganda, to the individual context of the schools participating in the I&I programme.
We at NFER have been working closely with PEAS to evaluate the pilot and found improvements in leadership and management in all participating schools (as measured by the World Management Survey), as well as a number of aspects in school leadership and management practice that have the potential to improve teacher effectiveness.
Here are our top four takeaways:
1) Do not underestimate the role of open communication and good working relationships
Transparent, trust-based leadership and management styles are at the core of good working relationships among education personnel. Our evaluation found that the I&I pilot helped school leaders enhance their people management skills, in turn improving working relationships with the staff. One teacher interviewed for the evaluation expressed:
I can say that now there is improved communication between the school administration and the staff…that link was formerly not there … we realised that there were solutions to those small challenges we used to have. (Head of Department)
Nurturing strong working relationships and individual motivation underpin the capacity to adopt change in leadership and management practice, which is conducive to improved whole-school communication.
2) Instructional leadership by school leaders matters
Research has shown that effective teaching supported by skilled leadership remain the two most important school-based factors for improving learning, making instructional leadership essential for effective teaching. School leaders who receive professional development support have greater presence in classrooms, better monitoring skills and the ability to guide teachers' practice using a non-judgemental approach. Both teachers and school leaders in our evaluation shared their reflections on how the increasing focus on instructional leadership at school level changed perceptions towards classroom observations:
A teacher would even go to the school leader and say "it's my lesson time, please can you come over and conduct a lesson observation". (Teacher)
I&I drew management closer to the teachers. After the inspection we had one-to-one discussions to tell them what they did well and what they needed to improve. Teachers started wanting to be seen. This has made appraisal process easier. (School leader)
Respondents also reported noticeable improvements in the quality of pedagogical practice, lesson preparation, development of schemes of work and syllabus coverage, all of which feed into improved teaching quality. Specifically, they attributed these changes to increased monitoring, supervision and pedagogic support by their school leaders.
The figure below illustrates a summary of self-reported progress that school leaders made in key areas of school operations during the pilot.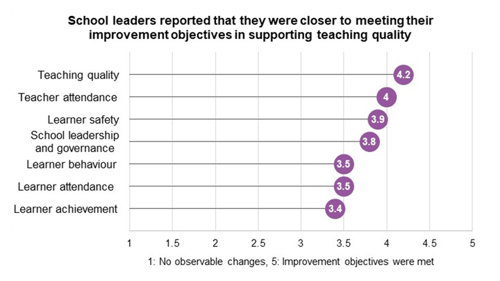 3) Reinforcing school leadership capacity should include support for staff wellbeing
Strong school leadership and management practice includes formulating school policies and strategies which ensure student safety and wellbeing. This is particularly vital in contexts affected by crises such as the COVID-19 pandemic. Given the immediate-term psychological effects of the pandemic found in our evaluation, we recommend that sustained support and attention to teacher wellbeing should be considered when designing professional development interventions with school leaders. In our evaluation, schools leaders reported increased investment and attention to student wellbeing and safety and attributed these changes to improvements in leadership and management brought by the I&I pilot. However, as teachers confront the reality of teaching amidst COVID-19 related disruptions, school leaders should complement their efforts on student wellbeing with a focus on staff wellbeing. By nurturing wellbeing strategies at management level, schools have the potential to create an ecosystem which truly fosters children's learning and development.
4) Finance scalable models of school improvement
Globally, the education sector is encountering shortfalls in financing, with donors at the 2021 Global Education Summit failing to raise the targets required to bridge the funding gap. Meanwhile, despite the steady progress made in Uganda, the education expenditure as a share of the national budget has decreased from 15 to 10 percent over the last few years.
The pilot evaluation showed growing concern among school leaders over inadequate resourcing, which consequently hampers provision of quality education. Chronic challenges related to funding were exacerbated by COVID-19 disruptions. This had a further effect on teacher motivation as school leaders reported difficulties paying their salaries.
As the international community commemorates World Teachers' Day 2021 amidst an unprecedented scale of learning loss, it is important to keep sight of the ways we support effectiveness of the teacher workforce. While school leadership has seemingly attained a firm place in policy agendas, it remains to be seen whether domestic and international financing will continue to prioritize school improvement models such as I&I, in order to fast track progress towards Sustainable Development Goal 4 targets in countries like Uganda.